Once our fence had to be taken down after the storm, that changed the flower bed quite a bit as far as sun goes. There now is a big hole in the back corner. I've been thinking about what to put there and decided to get a buttonbush. It's not sold here locally, so I ordered from Bluestone Perennials, which is one of my favorite online plant nurseries. They don't pay me to say that, either — although I wouldn't mind some free plants 😀
My baby shrub: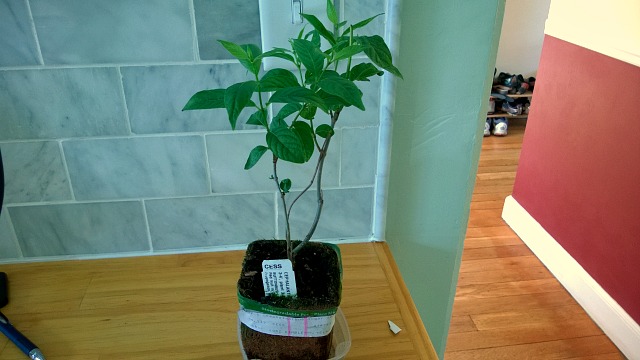 Apparently, the buttonbush is part of the coffee family according to Wiki! No wonder I liked it.
Normally the buttonbush in the wild is pretty large and unruly — it can reach up to 20 feet, but the horticulturists have been working on it and made one that works in the smaller home garden at a more manageable 3-4 feet. I had thought about this for the front sunny bed, but then went with the calycanthus instead. Now I have the chance to have the buttonbush as well!  The thing that I love about it would be the flowers. They are white balls: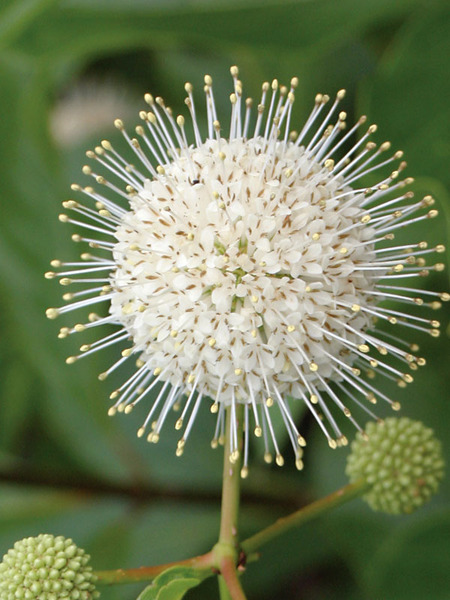 Isn't that cool? Then in the fall and winter the red berries come: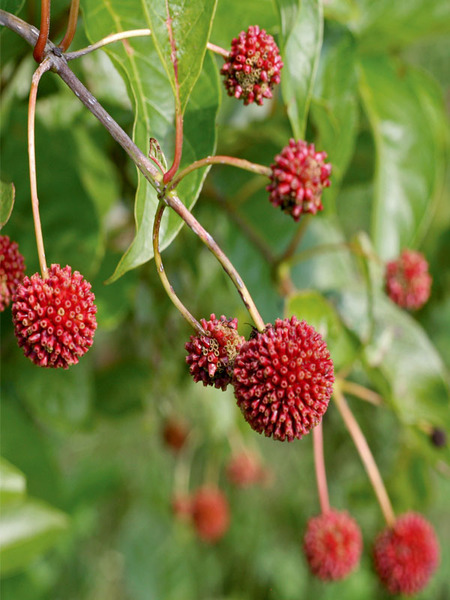 Photos from Bluestone perennials.
I'm excited for how this is going to look! It's got a way to go from the baby above to the 3-4 feet it will end up at. The other fun thing is the name of this variety – Sugar Shack. That tickles me for some reason.
I am surprised that the local nurseries don't carry this. It's a native and hardy to zone 4.
My baby is acclimatizing now. We have had really cold temps in the upper 30s and low 40s overnight, so I am waiting a few days for them to rise a little more just to be safe.